If I should Lose You - Rose of the Rancho - 1935 - Words and Music by Leo Robin & Ralph Rainger
Thunder Over Paradise - Rose of the Rancho - 1935 - by Leo Robin and Ralph Rainger
Through the Years - 1931 - words by Edward Heyman, music by Vincent Youmans
The Champagne Waltz -1934 - words and music by Con Conrad, Ben Oakland, and Milton Drake, Famous Music Corp.
God Painted A Picture - Song & Piano Music like sung by Gladys Swarthout
RCA Victor 14419 Gladys Swarthout, Carmen-Habanera L'amour est un oiseau/Carmen-Seguidilla, Pres Des Remparts De Seville
Howard Hanson's opera, Merry Mount. Gladys the first to ever play part of Plentiful Tewes.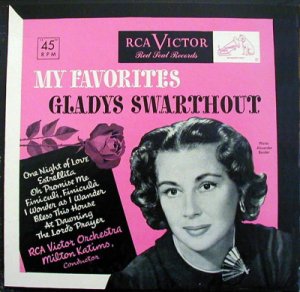 "ANDRE KOSTELANETZ" radio show transcription disc from The War Department of The Armed Forces Radio Service. One 30 minute program on a 16 inch, vinyl 33 1/3 rpm disc. This disc was issued to radio stations for broadcast only and not available to the general public. Program #113 from February 14, 1946, starring ANDRE KOSTELANETZ with guest GLADYS SWARTHOUT.
Gladys Swarthout - RCA Victor - Red Seal Records - 78rpm - She sings popular song favorites.
Hear Them Again - Readers Digest - 1968 - Included with about 80 other artists - 10 album set
My Favorites, Gladys Swarthout - RCA Victor - Red Seal Records - 45rpm - Boxed set of four, she sings popular song favorites. One Night of Love, Estrellita, Oh Promise Me, Finiculi Finicula, I Wonder as I Wander, Bless This House, At Dawning, The Lord's Prayer