| | |
| --- | --- |
| If anyone can identify the location of this one, please let me know! | Gladys travelled the country presenting concerts. Here is an autographed program from an early concert. If anyone can identify the location of this one, please let me know! |
| | |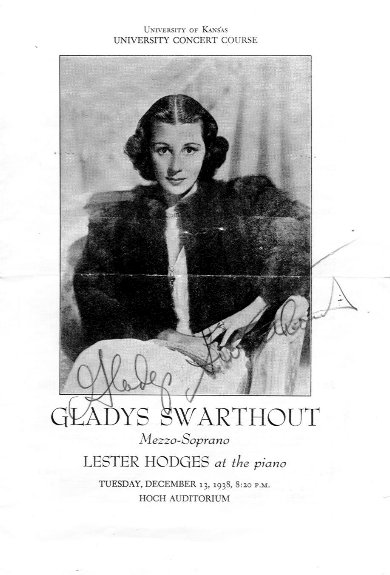 An early concert at the University of Kansas - Provided courtesy of Lisa Giannascoli
In fall of 1928 the Corning Chamber of Commerce signed the contract of affiliation with the national Civic Music organizations.. This new Corning branch became the 130th affiliate in the nation and only the third in the State of New York. Gladys Swarthout, mezzo- soprano, and Paul Kochanski, violinist, pleased the audience immensely the initial season. Gladys made her debut at the Met in the fall of 1929 and was a popular star for the next sixteen seasons.
This program is from a 1939 concert at the Duluth Armory with the Symphony Orchestra. The best seat in the house went for $2.50!
The above picture was inside the cover to the left. Her concert was on October 27th of 1939. The description includes these comments:

Her ability, charm, lovely voice with beauty to match have speeded her along at every point. "Lovely to look at and heaven to hear." - New York Times.
Downers Grove Concert Association, Downers Grove, IL - 1953-4, Season 7 - Gladys Swarthout.
Lewisohn Stadium, NYC - Saturday, August 4,1951, - First Rodgers and Hammerstein Night concert with Richard Rodgers conducting the last half of the concert, with soloists Gladys Swarthout, Robert Weede, Marguirite Piazza, and tenor Earl William.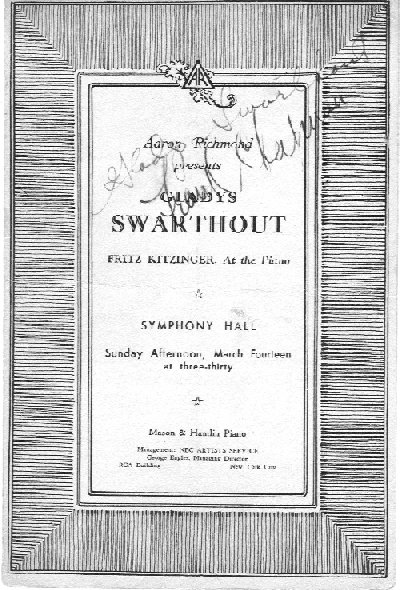 This one is autographed by both Gladys and her husband, Frank Chapman!
Recent Acquisition - Program from The Clemson College Concert Series - October 10, 1946 - No pictures - includes pencil notes on songs that were not in the original program. Carroll Hollister at the Piano
Gladys was a popular entertainer and greatly appreciated by the members of the Armed Forces.
Her concerts were broadcast throughout the world on the Armed Forces Radio Network.