Come Soon, Tomorrow! By Gladys Swarthout, Dodd, Mead & Co., New York, 1943.
When the Song Left My Heart, by Gladys Swarthout, Everywoman's Family Circle, October 1958.
Gladys Swarthout, NBC Artists Service brochure for concert season 1938-1940.
| | |
| --- | --- |
| | Gladys Swarthout, Edited by Humphrey Doulens - The booklet pictured on the left was produced by Columbia Artists' Management, Inc., about 1950. The portrait was painted by Azadia Newman. The concert gown was designed by Valentina. And yes! It is autographed! Many of the pictures on this web site came from the forty six pictures, sketches and paintings included in this informative twenty page biographical bulletin. |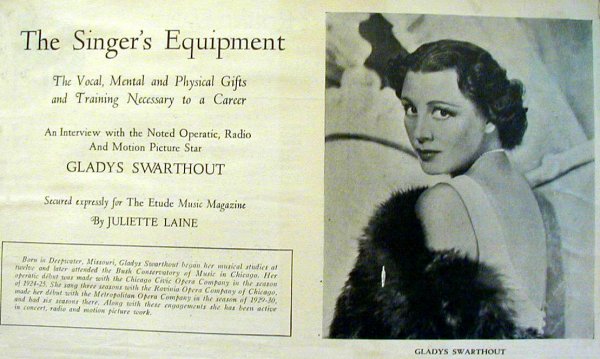 The Singer's Equipment, Interview by Juliette Laine, The Etude Music Magazine, December 1937, pages 788 and 829. The Vocal, Mental and Physical Gifts and Training Necessary to a Career. An interview with the Noted Operatic, Radio and Motion Picture Star. Photo's and pictures are from the above Articles and Books.
Leonard Maltin's 1999 Movie & Video Guide
E Entertainment's web site
Other Resources include Record Catalogues, Auction Sites, Encyclopedias and other locations.
Swarthout Sisters Have Won World-Wide Fame- article in the Clinton Eye - Clinton, Henry County, Missouri - Sep 1934