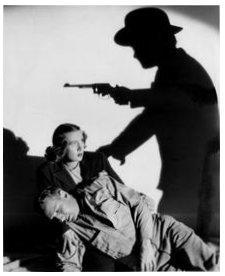 Ambush
1939 - 62 min. - Directed by Kurt Neumann
Scripted by Laura and S.J. Perelman. Story by Robert Ray. Cast: Lloyd Nolan, Gladys Swarthout, Ernest Truex, Broderick Crawford, John Hartley, William Frawley, Antonio Moreno, Polly Moran, Wade Boteler, George Melford, Eddie Acuff, Clem Bevans, Ethel Clayton, Rufe Davis, Richard Denning, Jane Dewey, Robert Greig, Raymond Hatton, Max Hoffman Jr., Robert Homans, Olin Howlin, Billy Lee, Bobby McKim, James Pierce, Sonny Tufts, Guy Usher, Virginia Vale, Monte Vandergrift, Bryant Washburn, Charles Williams, and Clarence Wilson.
The non-singing role was Gladys' last film and her vocal efforts were confined to a few well placed screams in this cops and robbers story. After pulling off a bank robbery, a clever gang of thieves secretes themselves away in a rural hideout. When Jane Hartman (Swarthout), the sister of one of the crooks arrives unexpectedly things get complicated. In order to keep her brother and herself alive, Jane coerces a truck driver named Tony Andrews (Lloyd Nolan) into helping the fugitives escape. Of note is the excellant performance of Ernest Truex, usually cast in the more mild mannered roles, as the "brains" of this nest of thieves.