WOW! What a great job Neil and Joan did on this year's reunion. I didn't think they could out-do last year's reunion, but they did. If you missed this one you missed a great time. Fri. we had a welcoming and get together with a light supper.
Sat. we boarded a bus at 8:00 a.m. to go north, we went to Sedona and Verde Valley for sight seeing and picture taking. Sedona is known for the five-story Montezuma Castle, a 20-room cliff dwelling used by the Sinagua Indians 600 years ago. We ate lunch in Sedona, and dinner in Rock Springs a the Black Canyon Stage stop that has been in existence sint 1884. We returned to the Inn around 6:00 p.m.
Sunday, Joan and Neil invited everyone to their home for a BBQ and to meet Kathryn and Miles Hood Swarthout, wife and son of glendon Swarthout. They are remarkable people, but then they are Swarthouts. Miles talked about some of his father, Glendon's, many books, that had been made into movies with two of the most famous being "Bless the Beasts and The Children" and "The Shootist," in which Miles was the screenwriter. This was the last movie done by John Wayne.
Kathryn discussed with us the many children's books she and Glendon have written together, with one of the most famous being "Whichaway."
Mile Hood Swarthout had his first novel put on sale this spring titled "Sergeant's Lady" and has won the Spur Award from the Western Writers of America, as Best First Western Novel. Miles and Katheryn signed novels for each of us that they brought with them. We finished the vening with our auction
Monday was farewells til next year during Labor Day weekend when the reunion will be back in Geneva, New York, hosted by Rudy and Mary Swarthout Rindfleisch.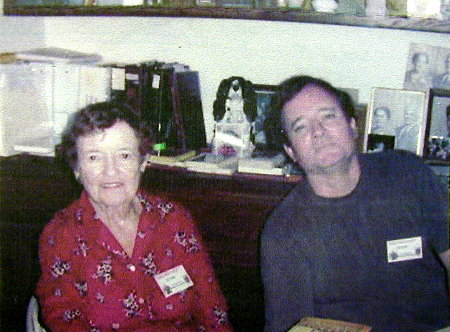 Katheryn and Miles Hood Swarthout
Missed Reunion
John and Penny Swartwout Kochtitzky were unable to make the reunion after making all their reservations, living in Hattiesburg, Mississippi, their home was damaged during Hurricane Katrina, it will be several weeks before their power is restored and they are now using a generator for power. Penny said it takes four hours to get through the line for fuel. We all wish them the best.
---
Swarthout Family Gathering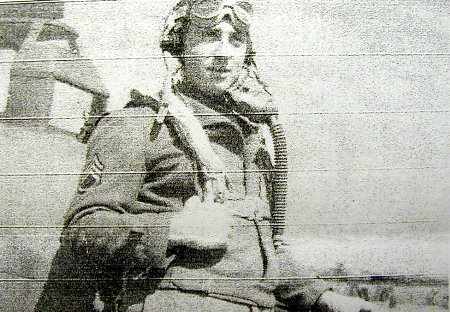 This photo of Stanley Cecil Swarthout was taken May 14, 1944 and used in a newspaper article concerning his plane being shot down.
Article coming!
---
Letter From Miles
My mother Kathryn and I so much enjoyed meeting a number of my Swarthout kin at the nice Sunday afternoon party hosted by Neil and Joan Swarthout in sunny Mesa, Arizona, the day before Labor Day. You folks really know your Dutch family history and your genealogy studies were impressive. Kathryn and I went on for quite awhile speaking the the group about Glendon and his prize-winning novels and our Michigan branch of the Swarthouts. I guess we didn't put anybody to napping, but you all wanted to know more about Glendon, sinse you never had a chance to meet the famous novelist in person. He died in Scottsdale of emphysema from his life-long smoking in September of '92 and you didn't start hosting these family reunions, Mary, until 1993.
But dad lives on in his late night moveis and in libraries around the world, and I was happy to seel and sign some of his and my novels to a very avid group of book collectors. I'm not trying to make carloads of money off these small transactions, and yes, I do buy my copies at an author's discount from the publisher, if they are still in print. But when you factor in postage and the mailers and my trips back and forth to the post office, it's more a labor of family respect than a moneymaker for me.
So - here's the same deal I offered to the Swarthouts assembled in Mesa, to any other Swarthout who wish to own novels written by their famous literary namesake.
First, I did sign in Mesa DVDs of The Shootist, John Wayne's final film, which are available from Paramount Home Video. You'll find me speaking about Glendon's famous Western on the 19-minute "Making Of" segment which accompanies that movie on DVD. This year Columbia Home Video alse released a DVD of Glendon's They Came to Cordura, and in 2004, Warners put out a special edition of Dad's beach party classic, Where the Boys Are on DVD. I will also sign Boys for you, since that best selling novel was dedicated to me. But I won't sign Cordura, which I had nothing to do with. Prices are $25 each, which includes my postage and mailer. If you already own a copy of these two DVDs and just want them autographed, sind it to me with a spare mailer inside with your address on it and the postage prepaid and I'll put it back in the mail for you pronto.
As for the novels, some of those I will sign for you for free, again, as long as you enclose a spare mailer in your package with your address and postage.
Secondly, I will sign first editions of a couple of our novels still in print. Glendon's hard cover sotry collection, Easterns and Westerns, which I edited and wrote a long Afterward covering his literary career, is available for $30 from me, which includes my postage and mailer. If you are interested in Glendon's personal history, that's probably the best book of his to own, since it also includes his 12-page autobiography, the only one he ever wrote.
My new Spur-winning Western novel, The Sergeant's Lady, which is based upon one of Glendon's old short stories is also available from me signed for $30 in first edition hard cover. There were only 3500 copies of the first edition run. A signed paperback of The Sergeant's Lady is available from me fo $10 which includes the tax and postage. Can't handle credit, cards, but I'll take checks or cash and thank you very much.
The Shootest, if you are lucky enough to own a hard cover of The Shootist, I will sign that one because I wrote the screenplay for the film. I'll also sign Shootist paperbacks if you send them along with return mailer and postage.
Hard covers and paperbacks of Where The Boys Are I'll sign, since that bestselling spring break novel is dedicated to me. Some goes for Bless The Beast & Children, which is also dedicated to me and was based upon some of my misadventures at a teenaged boys camp in Prescott, Arizona, over four summers in the Sixties when I was both a camper and counselor at Hidden Valley Boys Ranch. Beasts was Glendon's biggest selling novel by far, over 3 million copies sold in North America alone. It has never been out of print since 1970 and is still widely used in high school English classes around the country.
I will also sign copies of The Melodeon, which is also out now in a newer paperback edition entitled A Christmas Gift. I co-wrote the teleplay to CBS-TV movie, which had a 3rd title, A Christmas to Remember, back in 1978. That Christmas classic was Glendon's tribute to his Michigan Ancestors, so you might enjoy the genalogical connection. Sorry, but we don't have copies of these older, rarer paperbacks for sale, including the 6 young adult novels Glendon co-wrote with my mother.
I really don't need ot get into the book dealing business with the relatives, but I found so much interest in having me sign Glendon's and my novels at our 2005 Mesa reunion, copies of almost all of Glendon's old novels can be bought off the national network of used and rare books on-line www.abebooks.com. Any bookstore can also order them for you if they are still in print. Sned them to me (with return postage, please) and I'll sign 'em for you for free, any way you request.
Books make such great holdiay gifts, to be shared with relatives and friends. Check out the plotlines of all our novels and movies and reviews thereof at our literary website, www.glendonswarthout.com.
I hope to meet even more Swarthouts at another family reunion some Labor Day, somewhere down the trail. You certainly are a very nice, well educated group with a very old, distinguished surname. I'll write my best to continue to keep our family name in print. Look for me at my rent-a-car, peddling books out of the trunk.
Happy reading to all!
Miles Hood Swarthout
milesswarthout at verizon.net [replace the at with the @ symbol to send Miles an email for address]
---
Past Reunions
| | | |
| --- | --- | --- |
| | | |
| 1992 | Romulus, NY | Rudy and Mary Swarthout Rindfleisch |
| 1993 | Geneva, NY | Rudy and Mary Swarthout Rindfleisch |
| 1994 | Pine Island, MN | Joan and Neil Swarthout |
| 1995 | Richland, WA | Gauin and Helen Moore |
| 1996 | Geneva, NY | Rudy and Mary Swarthout Rindfleisch |
| 1997 | El Centro, CA | Robert and Pat Swarthout |
| 1998 | Pine Island, MN | Joan and Neil Swarthout |
| | Scotts, (Kalamazoo) MI | Beverlee Swarthout Jenkins |
| | Geneva, NY | Rudy and Mary Swarthout Rindfleisch |
| | Ontario, Canada | Kathy Heoldke |
| | Kingston, NY | John Swartwout |
| | Troy, MI | Mark Swarthout |
| 2004 | Boston, MA | Joan and Neil Swarthout |
| | Mesa, AZ | Joan and Neil Swarthout |
| 2006 | Geneva, NY | Rudy and Mary Swarthout Rindfleisch |
---
Reunion 2006
Next year's reunion will be hosted by Rudy and Mary Swarthout Rindfleisch in Geneva, NY so mark the date on your calendar for Labor Day weekend September 1-2-3-4, 2006. More details will be following after the first of the year.
---
Swartswood, N.J.
By Dot Swartwood
Swartswood is a small town in the northwest area of New Jersey, across the Delaware River form East Stroudburg, PA.
In 1824 the town was founded and named New Paterson. IN 1852, the village name changed, by reason of some confusion of mail delivery of letters for Paterson. The new name chosen was Swartswood, because of Swartswood Pond nearby. The pond is supposed to have been originally call Swartwout's Pond in remembrance of the man who was tortured to death by Indians; but for some unexplained reason, the name of Swartswood was substituted.
In 1755 Anthony Swartwout and his family were living in the area where the village was later named for him. Some Indians claimed that a white man had killed a relative and they must take vengence.
The Indians, along with some white settlers dressed as Indians, crossed the Delaware River neat Dingman's Ferry and traveled silently along the old trail. The next night they were near Swartwout's cabin. When Mrs. Swartwout went out to the milk house, the group of Indians instantly killed her. Mr. Swartwout and two of his children were captured and led into the woods. The two children, a boy and a girl, were taken to live with the Indians. Anthony Swartwout was tortured, disembowled, and left to die.