Reunion 2001 was an international event!
---
Norwich, Oxford County, Ontario
August 31 - September 3, 2001
---
This year's reunion was in Canada! Yes, those crazy Swarthouts even moved north of the border. The 2001 Swarthout Family Reunion was full of firsts! It was our first international event, meeting in Woodstock, not New York, but Ontario, Canada! We also combined with the other Founding Families of Norwich, Oxford County, specifically the Lossings and the Siples. We had a great time! The Norwich Museum and Archives were opened to us for two days of research and learning. Connections were made!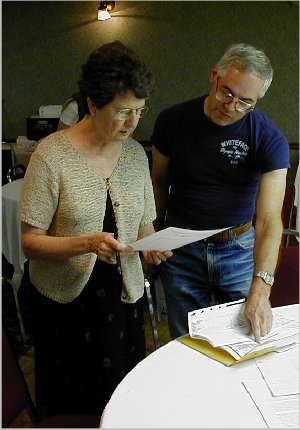 Included were stops at a number of cemeteries that contained Swarthout graves. We had a barbeque chicken dinner, cooked by the local civic club and served up by the Museum Staff on Saturday evening. The picture below shows the group that gathered for the dinner Saturday evening in front of the Blacksmith shop were we watched dinner chimes being made, one of which was used to collect us all for the meal.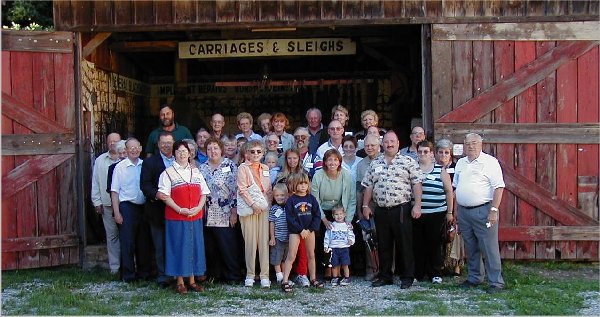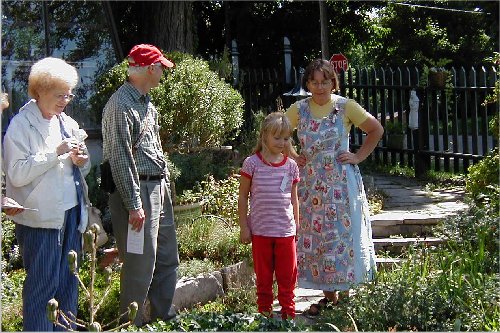 One of the highlights was a stop at the Herbal Touch in Otterville, Ontario where we were hosted by Marilyn Edmison-Driedger, (on the right) the herbalist often seen on Home and Garden Televisions' Gardener's Journal. http://www.theherbaltouch.com/
We were introduced to a number of aromatic herbs and wandered through the fairy garden.
---
Sunday was the Banquet at the Hotel. With a nice dinner under our belts, we got down to the business of running up the penny auction as well as a normal auction. In the process we took a break to conduct some real business. Under the able direction of Ron Swarthout, we took the first steps to creating an incorporated entity for the Swarthout Family. Mary Swarthout Rindflesch will investigate the requirements for incorporating in New York with an eye to becoming a 401c corporation.