Swarthout Family Reunion
Labor Day Weekend, 1999
Scotts, Michigan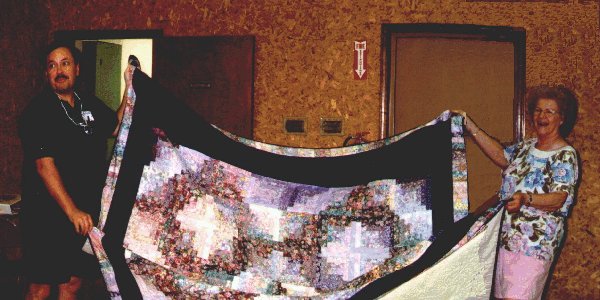 Isn't it a beaut! Yeah, I'm a bit biased, I'm (Mark W. Swarthout) the lucky guy on the left who won it! On the right is Beverlee Swarthout Jenkins, who not only made the quilt, but was a wonderful and gracious hostess, setting up the entire weekend.
Photo courtesy of Joan Swarthout. (Joan, and you thought you didn't have a photo with both of us in it! Amazing what a scanner and a bit of editing software can do!)

Some 50 Swarthout and Swartwouts met at the Town Hall in Scotts, Michigan, enjoying discussions about the family tree, displays of historical items, good company and a terrific spread of food. We had relatives coming in from all over the country, including New York, Arizona, Minnesota andNew York.

I'll add more to this page as the info is forwarded. Please e-mail me with suggestions, files, links, pictures, family trees, and Swarthout related information.



This page was created by Mark Swarthout.
The last update to the page was on Saturday, October 16th, 1999.
Send me some mail !