I reported aboard expecting to go to work in the Engineering Department. I mentioned an interest in other Departments and they decided that a new Communications Officer was needed, so sent me off to Comm School in Newport, Rhode Island. I cut my classes short a couple of weeks to return to the ship prior to deployment and still managed to graduate with honors. One of the instructors was RM1 Bassett, he was gracious enough to invite me to his home and I actually passed my Morse Code test for a Ham Radio license. He demonstrated teletype and MARS connections to me and this is his QSL card. I was one of only two Morse Code Operators aboard the ship for most of the time.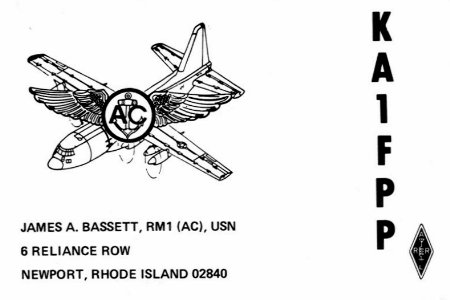 On my first cruise, we were stationed in the Persian Gulf at a spot we called 'Gonzo Station.' I'm in the next picture.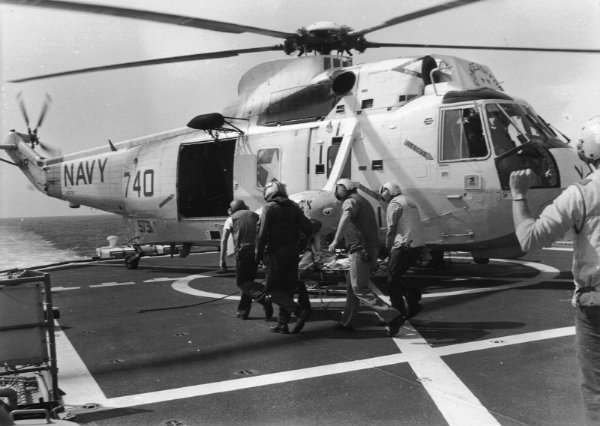 I'm the one in the stretcher! I was air lifted off and taken to the American Mission Hospital in Manama Bahrain for an emergency appendectomy. You can read the full story here, Desert Duck.
I became a Shellback shortly after my return to the ship when we went to Kenya for a week. The picture below was taken in Tsabo National Park, Kenya.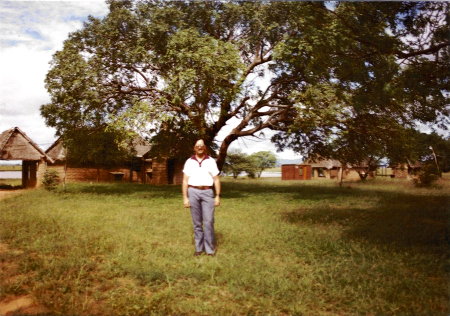 I attended the Harpoon Missile School and was qualified to stand watch in the Combat Information Center (CIC).

The second cruise while I was on the John Rodgers was spent in the Eastern Med. We visited Israel and Egypt.
While off the coast of Lebanon, aboard the USS John Rodgers, the crew was awarded the Navy Expeditionary Medal and the Presidential Unit Citation.
This AP Wirephoto showed up in many papers across the United States. At the same time live photos where on television. My grandmother even wrote me a letter to say that she had seen my ship on TV! The photo perspective is pretty interesting, because I never felt that we were this close to the shore! I have a dozen or so articles from various papers describing the situation, the ship and what we were doing, as well as letters from many individuals. The picture on the right is the bottom of one of the 5" 54 shell casings that we fired into the mountains. It was given to me on leaving the John Rodgers.
19 September 1983 - USS John Rodgers and USS Virginia (CGN-38) fire 338 five-inch rounds to help Lebanese Army troops retain hold on strategic Shouf Mountains village of Suq al Gharb.
20 September -- Residence of U.S. ambassador was shelled; USS John Rodgers and USS Virginia responded.
U.S. FIRES IN SUPPORT OF LEBANON - NAVY SHIPS SHELL REBELS NEAR BEIRUT
Source: David Zucchino, Inquirer Staff Writer
U.S. gunships, in their largest naval bombardment since the Vietnam War, yesterday dramatically escalated the American role in Lebanon by firing for the first time in direct support of the exhausted Lebanese army in the Shouf Mountains overlooking Beirut. Two U.S. Navy ships, the destroyer John Rodgers and the guided-missile carrier Virginia, unleashed a deafening barrage of high-explosive shells that crashed down on Syrian-backed rebel militiamen, . . .
Published on September 20, 1983, Page A01, Philadelphia Inquirer, The (PA)
21 September -- USS John Rodgers and USS Arthur Radford (DD-968) responded to shelling of Marines at Beirut International Airport.
| | |
| --- | --- |
| On our way to the Eastern Med, we stopped in Trieste, Italy for a few days. Trips to Austria and Venice were arranged. To the left you'll see me in St. Mark's square. | On our way home in July, we got to spend some time in Monte Carlo, Monaco. The way to and from the beach was to take the 'Liberty Boat.' If we were lucky, we could hitch a ride with the Captain in the Captain's Gig, which was a bit more comfortable. Below I'm in the gig with some of my fellow officers. |

We also spent a great deal of time that summer following this ship around, the Soviet Aircraft Carrier Novorossiysk, CVHG-137, on her maiden voyage in 1982. This was a 40,000-ton conventional powered vessel with helicopters and vertical take-off and landing aircraft. The air wing consisted of a dozen Yak-38 "Forger" VTOL fighters and twenty helicopters. This class of carrier carried significant missile capability that included SS-N-12 antiship missiles, SA-N-3 and SA-N-4 SAMs. For ASW work, there was an SUW-N-1 FRAS launcher and RBU-6000 ASW mortars.
Navy Unit Citation, Navy Expeditionary Medal, Sea Service Deployment Ribbon with two stars, Rifle Marksman, Pistol Sharpshooter(it became Expert while with the Marines!).
United States Navy