Boy Scouts of America
Order of the Arrow
My father, Arthur Swarthout, served as chaplain at a Scout camp one summer when he was in seminary. He never understood why he always seemed to get stuck with the overnight trips with the troops. His fellow staff members were building up his nights under canvas so he could be nominated to the Order of the Arrow. He became an Ordeal member of Consoke Lodge in 1956.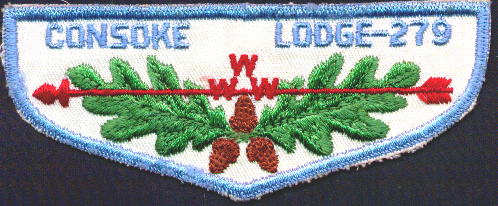 Mark Swarthout was with a number of troops and worked on staff at Camp Mahonegon in West Virginia. My Medical Explorer Post nominated me and I became an Ordeal Member of Buckongehannon Lodge in 1975.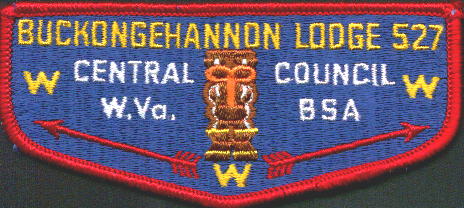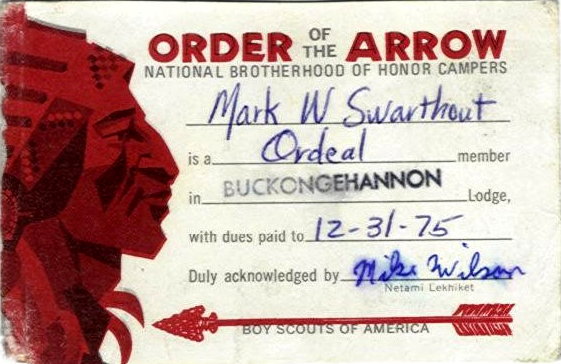 If you would like to see other patches see my Patch Collection
| | |
| --- | --- |
| During my first year at camp, one of the scoutmasters had a deer skin that he used to make a pair of knee high moccasins, complete with fringes. He took a bit of the scrap and made me this buckskin pouch. I collected teaberry and wintergreen leaves, creating a nice smelling pouch that offset some of the mildew smell of the tent. | |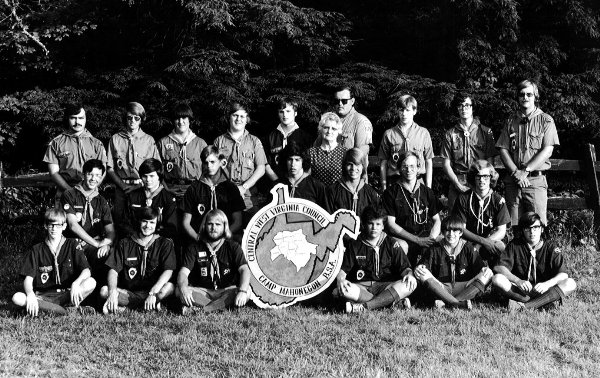 1974 Camp Mahonegon Staff - I'm on left end, middle row.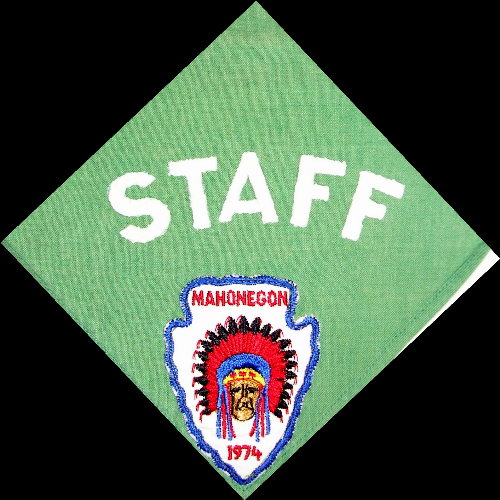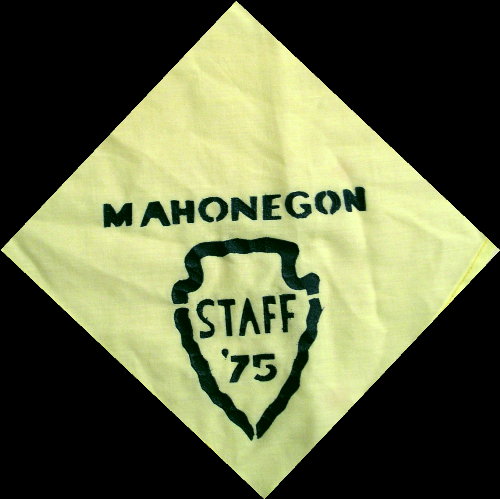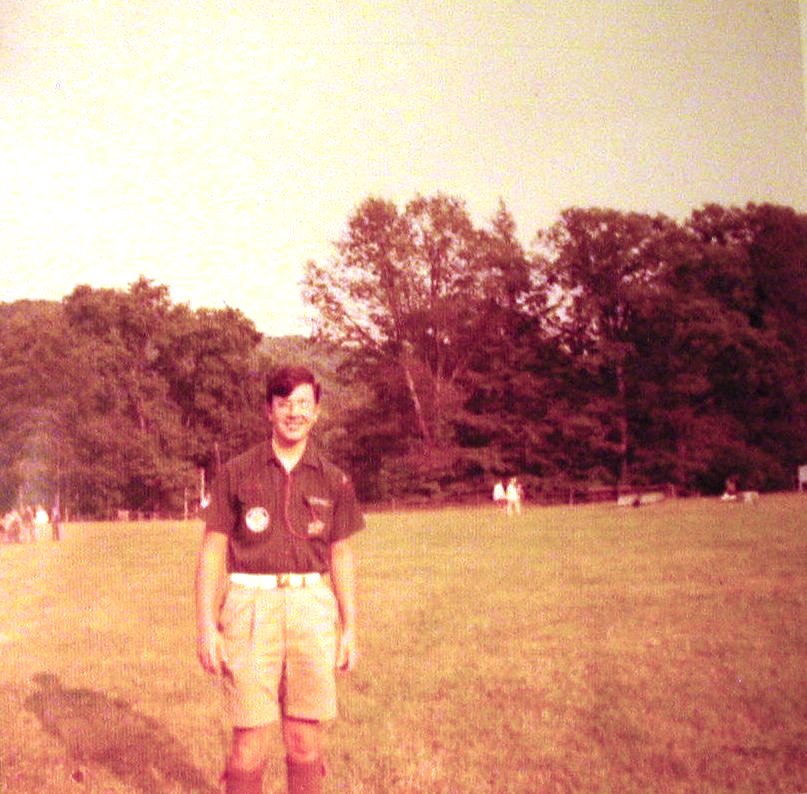 On the Parade Ground at Camp Mahonegon. The suspension bridge is just over my right shoulder.

| | |
| --- | --- |
| Myself, Linda Newman and Carl Aylstock with Governor Arch Moore. Below the Governor and his wife examine the gifts I presented on behalf of the Council. | |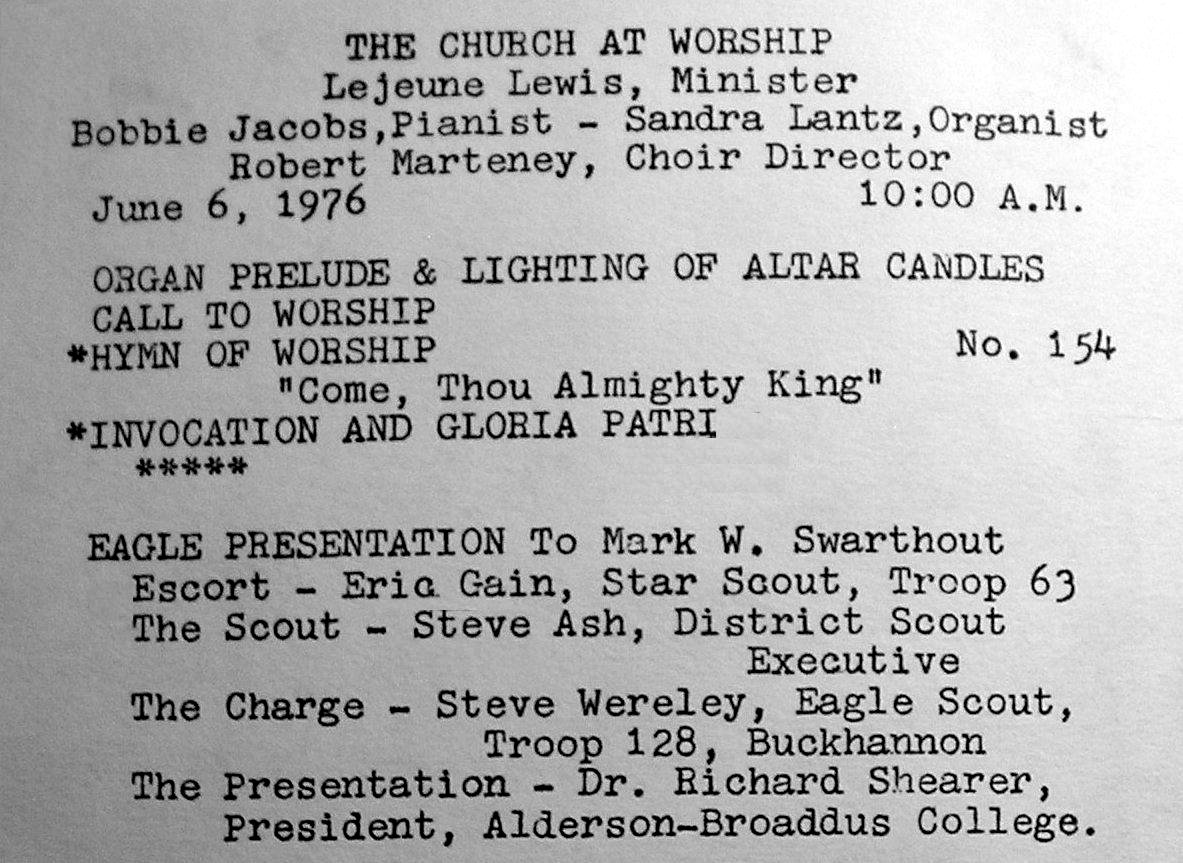 | | |
| --- | --- |
| | |
My Eagle Scout Project was to rebuild a bridge. It was a short cut from my subdivision to downtown Philippi. So the Hardware store provided the lumber and supplies and the
troop provided the labor. We added a handrail and new wood throughout.

| | |
| --- | --- |
| | Dad served as the Scoutmaster of Troop 62, sponsored by the United Methodist Church in Philippi, West Virginia. One of the reasons was to provide a solid troop for Mark to work toward his Eagle Scout award. This photograph shows Art and Mark with the plaque that was presented to Art by the troop in appreciation of his work. Mark is wearing his Eagle award! He also has his Lincoln Trail Medal earned when Art took the troop to Washington, D.C. for a week. |
| | |
| --- | --- |
| Gary Hall and Jim Philips seated. Trying to remember who it was, and looking away from the camera is David Jones. | Gary Hall and Jim Philips seated. Standing is Eric Gain and myself. |
The troop participated in a Scout-O-Rama at one point. We did a woodcarving demonstration, including sharpening knives and, of course a fully stocked first aid kit. I did my first ball in cage for this one. The other Scout in the dark green shirt is Eric Gain. We shared a tent on camp staff in 1975 and were on the wrestling team together.
Click here to see my Philmont Trip!
When Art Swarthout served as Chaplain at a Camp in the Buckskin Council of West Virginia in 1978, Mark was home from college for the Summer and went with him. Together they became Brotherhood Members of the Wachu Menetopolis Lodge.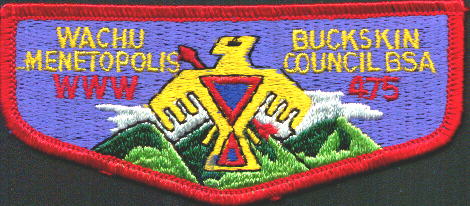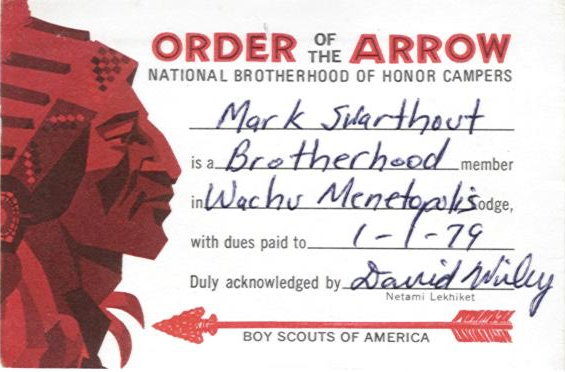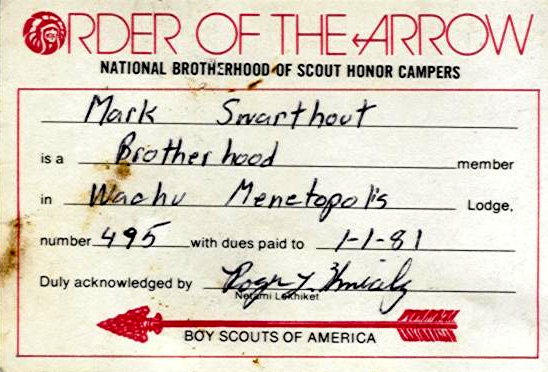 Updated February 2013